Meet the Artist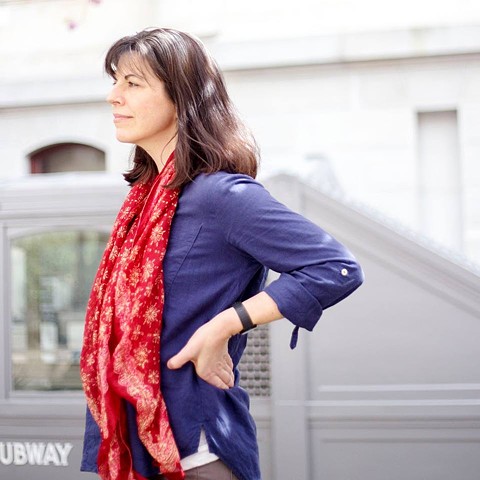 BIOGRAPHY
Donna Backues has a BA in Studio Art and Graphic Design from Southern Illinois University, an MFA from The Pennsylvania Academy of the Fine Arts and an MA in Urban Studies & Community Arts, from Eastern University.
After working for a while as a graphic designer, Donna moved to Indonesia in 1989 and lived for 18 years working in visual arts and in grass roots development. She founded a village community health program and a community arts program. Her interest in indigenous art forms led to her co-founding a handicraft non-profit supporting local artisans in West Java as well as designing batik textiles and woven products for export. She also created illustrations, manuals, and teaching aids for development projects including materials used in relief efforts during the aftermath of the 2004 Asian Tsunami.
In 2007, Donna returned to the US, finished her MFA and taught at the Village of Arts and Humanities, Mural Arts Philadelphia and Fleisher Art Memorial. She has been awarded numerous artist residencies through the Philadelphia Art Museum's Delphi Art Futures and Art Partners program, Spiral Q and Rutgers Camden Center for the Arts. In 2013 Donna won first prize in the American Batik Design Competition, in 2014 she was awarded the Art & Change Grant by the Leeway foundation and in 2017 she was awarded the NewCourtland Fellowship.
In 2018, Donna received an MA in Urban Studies with a focus on Community Arts. Donna currently works at SEAMAAC, Inc. as the Coordinator of Community & Family Wellness serving the immigrant and refugee population in South Philadelphia where her years of cross-cultural experience, Indonesian language ability and community arts experience is regularly put to use.
Donna continues to work in her studio, mentor emerging artists, teach and exhibit regularly. Four of her paintings are in the Philadelphia Convention Center's permanent collection. Her public murals can be seen in Philadelphia, Camden New Jersey and in Leeds, England. Her paintings have been collected and exhibited internationally in Europe, Southeast Asia, Australia and New Zealand.
www.paconventionart.com/artists/donna-b…