Batik Design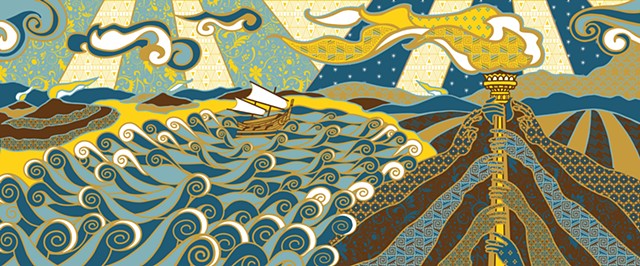 Ring of Fire Lighting the Flame of Liberty
Digital Print for Batik Cloth
41 x 98.5 inches (Final Cloth Size)
2013
First Place Winner in the American Batik Design Competition!
www.thejakartapost.com/news/2013/10/31/…
batikspot.com/indonesian-batik-tour/
The Challenge: Create a design using the theme, The Spirit of America in the Heritage Batik. The design was later made into a batik cloth by batik artisans in Central Java.
The theme of this design is rooted in the idea that America and Indonesia have much in common and both are committed to striving for unity and freedom. Like many of the indigenous peoples of Indonesia, Native Americans have a mystical interdependence with the land seeing the earth as being sacred and connecting all of us who share it as our home. The visual motifs being used in the design are based on our countries' common landscape and geography as well as the flaming torch from America's iconic Statue of Liberty.
Both countries share the Ring of Fire as well as the ocean that spills out on our shores. We enjoy the bounty of the sea and the fertile land surrounding our respective volcanoes; but, we are also equally vulnerable to the earth's violent rumblings, explosions and the ocean's force. We use the same sky and the same stars only at different times and from the opposite sides of the earth. Our countries take pride in our respective mottos, "E Pluribus Unum" and "Binneka Tunggal Ika". These phrases emphasize our common theme of Unity in Diversity, a single nation built from the gathering of many people.